Customized Pole Signs in Fort Lauderdale
There are many different ways that a business tries to attract new traffic. Increasingly, in a world dominated by technology and the virtual spaces of advertising on the internet, a forgotten about but a highly effective model for showcasing a business is signage. For businesses that rely on customers coming directly into their store, a sign can still be one of the efficient and visible ways to attract business. If you are in the Fort Lauderdale area and are in need of top quality pole signs, contact Premier Signs N Graphix today. We've spent years partnering with a wide variety of businesses in Fort Lauderdale to help them craft effective, beautiful, and sturdy commercial signs for their storefronts. For more information on our retail signage process, our rates, and any other details contact us today and a member of our team will be happy to assist you.
Exterior Pole Signage Experts
A glimpse of a sign from a long distance can still induce a compelling effect on a potential customer or client. Understanding the significance of providing a highly visible sign, our team at Premier Signs N Graphix specializes in producing free standing signs that attract attention and create publicity. Of the various types of signs that can be designed and manufactured, pole signs are free from the structural support of any building and rely on braces, poles, or uprights to stand alone. Examples of this kind of sign include: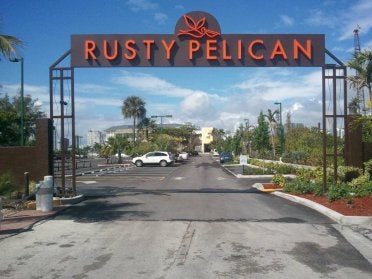 The expert team at Premier Signs N Graphix has years of tremendous experience with regards to pole sign design and we look forward to serving you today!
Fabricate a Personalized Pole Sign in Fort Lauderdale Today
If your business could use a boost of advertising on site, a properly designed pole sign could be just the answer. Among the benefits of an expertly crafted commercial sign is the size and scope. Pole and pylon signs can be big structures that allow for your business name or product to be prominently displayed in a public facing area. Because pole signs can reside across streets and other smaller structures, they can fit in many places. Some of the downsides of pole signs also have to do with their size. At times, a pole sign can block other important features of your business or might be blocking other businesses or areas in a given space. In addition, pole signs and pylon signs are not the most portable piece of advertising, meaning that if you decide to move your business, it can be challenging in certain cases to bring the pole sign with you. When you contact Premier Signs N Graphix, a member of our team can give you all of the information you'll need to weigh the pros and cons of our commercial signage options.
Highly Visible, Highly Dependable Signage
Customizing a sign after your preferences or specific needs is our priority. We provide Fort Lauderdale signs and graphics that can draw attention and successfully convey the message or advertisement you need.
Free estimates and consultations are available for those interested, so please don't hesitate to call our offices at 954-457-9297 for more information about Premier Signs N Graphix in Fort Lauderdale.