Front Lit Channel Letter
Channel lettering is a dimensional approach to advertising that can both increase the overall aesthetic appeal of your business and greatly increase customer traffic. Here at Premier Signs N Graphix, we provide custom design and manufacturing services for both channel letter signs and front lit signs to help take the face of your business to the next level. Nothing can evoke a captivating representation of a business title like the illumination of a custom channel letter or front lit sign. Learn more about these signage options below, and contact our team at (954) 457-9297 to schedule a free consultation with our sign design professionals today!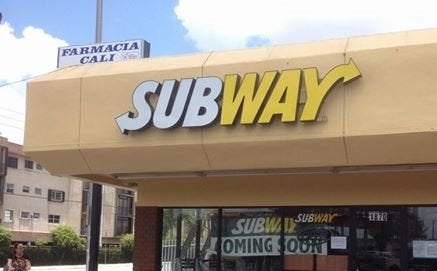 About Front Lit Signs
A front lit sign is the technical name for a sign composed of channel letters illuminated from the inside. Channel letters themselves are custom-made metal or plastic letters that are often internally illuminated. When unlit, these letters are typically referred to as dimensional letters. Regardless of lighting, their dimensionality makes them a visible and tasteful choice for the brick-and-mortar business location.
Since sign visibility after daytime hours is also very important, many businesses elect to use front lit signs for maximum visibility during all hours. (Other options for illuminated channel letter signs are back lit/reverse channel letter signs, also offered by our sign manufacturers at Premier Signs N Graphix.) Due to their visibility during both daytime and nighttime, front lit channel letter signs are one of the most popular signage options for businesses across all industries.
Custom Channel Letter and Front Lit Sign Design and Manufacturing
If you are looking to add an illuminated or un-illuminated channel letter sign to your business, our custom design and manufacturing team at Premier Signs N Graphix is the one to call. We provide high-quality, custom services for every step of the sign creation process — from design consultation to manufacturing to installation — for a finished product that will help transform the face of your business. The available features for business or retail channel lettering include:
Standard front lit format
LED
Daytime appeal through dimensionality
Nighttime appeal through illumination
Fort Lauderdale, FL's Leader in Signs and Graphics
At Premier Signs N Graphix, we are ready to discuss your interest in channel letters or any of our products. Our services are available throughout the regions of southern Florida, including Fort Lauderdale, Miami and Boca Raton. You can rest assured that we provide consultations, design, and manufacturing for a variety of businesses and individuals. Give us a call at (954) 358-3386 for free consultation and estimate today!
We proudly serve all of South Florida with front lit channel letter sign design and construction services. To learn more and to speak with one of our sign professionals, contact our team at (954) 457-9297 today!