Professional Dimensional Sign Letters Experts in Fort Lauderdale
Less visible but more versatile than channel letters, dimensional letters can be designed and installed more economically and may be applied in far more ways than other similar features. This style of business sign is a simple yet essential means of developing a grounded aesthetic and greater visibility. Our team at Premier Signs N Graphix can ensure you maintain a quality brand through designing dimensional lettering that fulfills your personal preferences and business personality. Outdoor and indoor features for dimensional lettering are available to provide long-lasting service and appeal. Our team has years of experience helping our customers select the right material and style for their dimensional sign letters. Our signage design specialists take pride in working closely with our customers from design to implementation to ensure that the signage remains beautiful and visible. We know that advertising and marketing services can stressful and expensive. At Premier Signs N Graphix we always aim to provide our commercial customers with top level service and dedicated customer assistance to ensure the process is smooth from start to finish.
Outdoor Dimensional Sign Specialists
For years, Premier Signs N Graphix has been Fort Lauderdale's premier source for dimensional sign letters of all shapes, sizes, and materials to ensure that you are always getting the best product. Typically, different materials are better suited depending on if the signage will be on the outside or inside of the building. Plastic lettering and metal laminate over acrylic generally do better inside than outside because other materials are more durable. Our stainless steel and aluminum options are excellent for outdoor use and will stand out in natural light! Contact us for more details. Because each job is different, when you speak with one of our technicians, we will be able to better answer your questions for your particular project and needs.
At Premier Signs N Graphix, we have custom material options for durability, longevity, or affordability include:
Acrylic
Formed plastic letters
Aluminum
Stainless steel
Metal lamiate over acrylic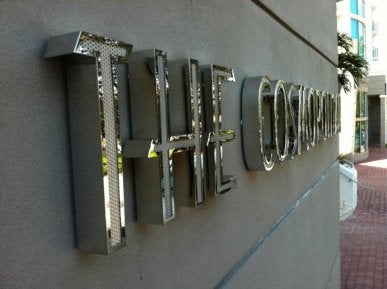 Exterior Signage Design That You Can Depend On
At Premier Signs N Graphix, we are committed to your aesthetic or advertising interests! Our Fort Lauderdale signs and graphics company has a strong commitment to branding and quality advertisement for your overall business success. We know that the process for getting branding and signage up and running is essential to a business succeeding. We love helping businesses of all sizes in the Fort Lauderdale are with all of their signage and dimensional sign letter needs. From conceptualization to fabricating the lettering to installation, our team is there every step of the way to ensure the process goes smoothly. We take immense pride in our work and are excited to serve your exterior and interior signage needs today.
At Premier Signs N Graphix in Fort Lauderdale, we offer free consultations and estimates to begin discussing your interest in indoor or outdoor dimensional letters. For more information, please call us today at 954-457-9297.